Uno de los elementos más importantes para el día a día de tu auto, es el aceite de motor . Este, funciona como lubricante para evitar que las partes metálicas rocen y ayuda a enfriar el corazón del vehículo, evitando cualquier inconveniente como recalentamiento o rupturas. Por eso, es importante saber como medir el aceite del motor y en este post te  explicaré cómo hacerlo. 
Como medir el aceite de un auto
En el siguiente vídeo se puede observar lo sencillo que es medir el aceite del motor y ademas de eso la función que cumple el mismo para la vida útil del motor de tu vehículo.
Con la app para mantenimiento de vehículos Gemacar recibirás los recordatorios para medir el nivel de aceite de motor de tu auto, evitando daños que pueden ser sumamente costosos o irreparables. Con Gemacar puedes ahorrar tiempo y dinero sin dañar tu bolsillo.
Como medir el aceite del motor
El funcionamiento de tu vehículo depende en gran medida de cuán bien lubricado se encuentra el motor. Como se mencionó anteriormente, el aceite es el encargado de evitar la fricción entre las piezas metálicas, debe estar bien distribuido, y además debe haberlo en la cantidad establecida por el fabricante para que el funcionamiento general del motor sea óptimo. De manera tal, que debes saber si le falta aceite al motor para completarlo de inmediato, y para eso debes seguir los siguientes pasos:
1. Apaga el vehículo
Lo primero es que el vehículo este nivelado y frío para hacer una medida correcta del aceite. Con el calor, el aceite tiende a expandirse, por lo cual te recomiendo esperar a que el auto (ya apagado) se enfríe, para que así el aceite descienda en sus niveles reales.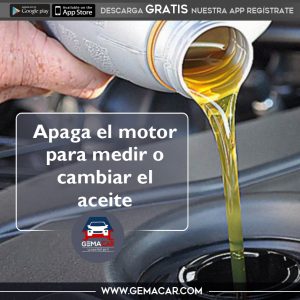 2. Buscar la varilla de aceite
Una vez que el auto esté frío, puedes proceder a levantar el capó y buscar la varilla para medir el aceite. Generalmente se encuentra identificada con la palabra "aceite" u "oil" (que significa lo mismo, en inglés).
3. Limpiar la varilla
Tienes que tirar de la varilla y limpiarla con un paño desechable o trapo limpio. No funciona con hacer la medición en la primera oportunidad porque el auto ha estado en movimiento, lo que indica que el nivel de aceite ha cambiado constantemente y la marca puede ser incorrecta.
Bestseller No. 1
AMVR 100pcs VR Face Cover Pad Disposable Non-Woven Fabric Sponge Mat with Magic Sticks for Meta Quest 1, Quest 2 and Meta Go
Keep Clean:use Velcro to paste the disposable mask onto the headset for Quest&go. Velcro can be used many times
Advanced Materials:The mask is made of non-woven fabric. Effectively prevent sweat from entering foam. Better protect your mission or action
Noiseless Cleaning: compared with the original foam, one of its advantages is that it can be replaced after each use, instead of wiping with a cloth. In fact, it's cleaner than cloth
Don't worry about sharing with others: Don't worry about sharing with VR Quest&Go with others again. Sweat, fat. Non woven fabric can prevent sweat and oil stains. So there is no odor
Includes:a pack of 100 face protection pads and 2 sets of Velcro
Bestseller No. 2
The Honest Company Clean Conscious Wipes | 100% Plant-Based, 99% Water, Baby Wipes | Hypoallergenic, Dermatologist Tested | Pattern Play, 288 Count
Note: for a limited time, you may receive the original (fam fave), non-compostable version
Now compostable! Compostable plant-based wipes disintegrate in 8 weeks
Gentle and safe for Baby but great for the whole family; Made with over 99% Water; Only 7 transparent ingredients
Recognized by the National Eczema Association with the Seal of Acceptance; Hypoallergenic; Dermatologist Tested; EWG Verified; Not Tested on Animals
Made without: Plastic Cloth/Fabric, Fragrances, Parabens, Alcohol, Chlorine Processing
Bestseller No. 3
Sale
Bestseller No. 4
ZEISS Pre-Moistened Lens Cleaning Wipes - 200 Count
GENTLE: Pre-moistened lens wipes gently clean glasses and lenses
SAFE: Safe for cleaning lenses with anti-reflective coating or prescription
EFFECTIVE: ZEISS lens wipes clean without leaving streaks or residue
SCRATCH FREE: Guaranteed not to scratch glasses or lenses
CONVENIENT: Individually wrapped, disposable lens wipes, for convenient use on the go
Bestseller No. 5
Zhowehall Nipple Covers 5 Pairs for Women, Silicone Pasties Reusable Adhesive Nippleless Covers Invisible Sticky Breast Petals Cream
SAFE ADHESIVE NIPPLELESS COVER - Made from medical grade (hypo-allergenic ) silicone. Perfect 2.75" diameter for more secure coverage. Self-adhesive pasties, unless you tear it off, there is no need to worry about it will fall, affect your beautiful mood.
HIGH-TEMPERATURE STERILIZATION OF NON-WOVEN - The thick and thin design in the middle makes your nipples more comfortable. The middle is made of glue-free design. The paste material is a high-temperature sterilization healthy non-woven fiber cloth, comfortable and breathable, effective anti-sensitivity, prevention and treatment of light, make the nipple more comfortable.
REUSABLE AND WASHABLE - These silicone pasties are reusable and waterproof. They can be reused many times. After use, only need to use mild neutral soapy water to clean, and air dry. Once dry. Self-adhesive properties are restored. Unlike the disposable nipple paste that you need to buy a lot, and there is no extra space to properly place them, then your room becomes very messy, don't you feel so annoyed?
PERFECT FIT - According to the female nipple exclusive design, from the middle to the surrounding gradually thinning, close fit breast, forming a smooth natural "skin", no sweat and no embarrassing contours, as your contact lens. So you can control all types of clothes easily, such as backless, strapless, perspective, low-cut, evening dress, swimwear, sportswear and so on.
YOU CAN TAKE IT ANYWHERE - We offer 5 pairs of nipple covers, and 1 portable storage box, you can put in a bag and accompany you to many places, like a party, gym, travel. If you decide not to love it anymore, please contact us and we are willing to listen to your voice.
4. Tirar de la varilla de aceite de nuevo
Después de limpiar la varilla, debes instalarla de nuevo en el depósito de aceite y tirar de ella nuevamente.
5. Leer la varilla de aceite 
Como podrás notar, la varilla posee dos marcas de nivel, una de máximo y otra de mínimo. Entonces, el nivel adecuado es justo entre las dos marcas, o más bien un poco más hacia la línea de máximo.
Si al retirar la varilla de aceite de tu vehículo, la marca indica que está en mínimo o por debajo debes preocuparte y completarlo hasta el nivel recomendado ya que como consecuencia grave por la falta de aceite se puede llegar a fundir el motor.
Y así, de sencillo y  fácil es verificar el nivel de aceite del motor, recuerda seguir cada paso para que el procedimiento completo sea exitoso. Para mejorar el rendimiento de tu automóvil, es también importante que lo mantengas en constante mantenimiento mecánico. Los especialistas sabrán qué hacer ante cualquier inconveniente con el nivel de aceite de tu motor.
Varilla de aceite de motor
Muchos conductores pierden la varilla de su motor y es muy importante contar con una, ya que sin la varilla es imposible como medir el aceite del motor. 
Aquí puedes buscar la varilla de aceite para tu marca de auto o buscar una genérica, pero no importa cual escoges lo importante es contar con una para poder medir el aceite del motor.
Bestseller No. 1
FRAM Ultra Synthetic Automotive Replacement Oil Filter, Designed for Synthetic Oil Changes Lasting up to 20k Miles, XG7317 with SureGrip (Pack of 1)
EASY INSTALLATION: Engine oil filter comes with Suregrip non-slip surface making it easy to remove and implement your filter without slippery mess ups. Perfect for the DIYer like yourself, just screw new filter on until gasket reaches base contact and tighten.
DURABLE DUAL LAYER: Compare to standard oil filters, FRAM Ultra Synthetic provides 99%+ filtration efficiency with pleated media that entraps all kinds of dirt and exhaust for a cleaner output.
SUPERIOR ENGINE PROTECTION: FRAM car oil filter is composed of a slick silicone anti-drainback valve, delivering superior start-up engine protection with up to 3X the hot oil resistance. Keep your filter clean without the dangerous mess.
HIGH TEMP RESISTENCE: Filter combats high heat pressure for longer shelf life with advanced high nitrile gasket for extended durability and quality.
20,000 MILE CAPABILITY: Reliable for high mileage, FRAM Ultra Synthetic offers proven protection up to 20,000 miles. FRAM Ultra Synthetic delivers reliable performance for the person who lives on the road.
Sale
Bestseller No. 2
JUSTTOP Universal Cleaning Gel for Car, Detailing Putty Gel Detail Tools Car Interior Cleaner Laptop Cleaner(Blue)
Safe and Eco-friendly: The car beauty keyboard cleaning gel is made of high quality biodegradable gel material, non-sticky and smells like a light lemon fragrance. It is non-irritating to the skin and is environmentally safe.Cleaning gel can be a stress-relieving toy that lets you release stress.
Reusable: This car cleaning gel can be used multiple times until the gel darkens. After use, store in a sealed box in a cool, dry place. ( Note: Do not wash all-purpose cleaning gel with water. )
Multiple uses: Car Dust Cleaning Gel not only cleans your car's air vents, dashboard vents, gear shift lever, knobs, door handles, air vents and CD slot, also suitable for crevices in remote controls, landlines, calculators, fans, digital cameras, etc. The suitable surface must be waterproof or the cleaning putty will stick to it.
Easy to use: Compared to regular car cleaning tools, this car cleaning gel is softer and easier to clean dirt from crevices in your car. First, take a small piece of gel and knead it before use, then slowly press the cleaning gel into a sturdy surface such as the car's air vents, and then slowly pull it out and the dust will be carried away by the gel.
Purchase with Confidence: Any issues or questions please feel free to contact us, we are always here to satisfy all of you.
Bestseller No. 3
LivTee 5 pcs Auto Trim Removal Tool Kit, Interior Door Panel Clip Fastener Removal Set for Vehicle Dash Radio Audio Installer (Blue)
Made of super durable plastic material for long-time usage. Ergonomic design with super lightweight, easy handheld features which effectively effort saving for various interior and exterior car trimming in the shortest time.
Great for car audio/radio system installing or removing, door panel, moldings, window trims or automotive interior repairing and furniture restoration.
Package includes 4 plastic panel removal tool + 1 fastener remover to facilitate your needs when repairing. A professional tool kit that is sturdy and easy to use.
Made of impact resistant nylon fiber material with matte surface treatment, tougher than common ABS one, it is eco-friendly, non-toxic and breakage-proof.
All tools are molded according to car trimming needs on the market, moderate curve that is not sharp, anti-scratches and harmless to car paint in the whole modification [Universal Application] This multi-functional combination tool set designed for all models of cars, boats, and rvs trimming jobs with variety of shapes and sizes, even for hard to reach areas.
Bestseller No. 4
Castrol 03084C Edge 5W-30 Advanced Full Synthetic Motor Oil, 5 Quart
Advanced premium full synthetic motor oil to offer strength under extreme pressure
Titanium strong for maximum engine performance
Reduces metal-to-metal contact across a range of different driving speeds
Protects the engine for the entire drain interval even under extreme pressure
Decreases engine deposit formation to help maximize engine response
Bestseller No. 5
GOOACC 635Pcs Car Push Retainer Clips & Auto Fasteners Assortment -16 Most Popular Sizes Nylon Bumper Fender Rivets with 10 Cable Ties and Fasteners Remover for Toyota GM Ford Honda Acura Chrysler
【UNIVERSAL FIT KIT】- The kit contains 16 types of most common sizes of fastener clips, suitable for the OEM replacement in 6-10mm hole sizes,that you'll always have the right size.
【TOP QUALITY】- These car retainer clips are made of high-quality black nylon material, anti-wear and anti-corrosion, would not break or crack easily during use.
【PREFECT FOR WHAT YOU NEED】 - Up to 620 pieces of retainer clips in a plastic box, allows to freely DIY your vehicle accessories at anytime you wanted. It is definitely cheaper than going to the auto parts store.
【BONUS ACCESSORIES】- We provide different size fastener removers and cable ties to help you quickly and easily remove car door panel and upholstery clips without causing damage to them. Easy access into confined areas.
【WIDE APPLICATION】- Professional push clips are widely used for car panel, door trim, bumper and fender for GM Ford Toyota Honda Chrysler etc.
Busca la varilla de aceite para tu auto
Importancia de medir el nivel de aceite del motor
Tanto el nivel de aceite como su estado o condición son importantes para el correcto funcionamiento del motor, por eso ademas de garantizar el cambio de aceite  y filtro de aceite de motor con regularidad debes medir constantemente el nivel de aceite de motor. 
Es importante que sepas es que todos los motores normalmente consumen algo de aceite; los autos nuevos suelen gastar menos aceite, por lo que el nivel de la varilla parece bajar más lentamente. Pero, en aquellos más viejos, el consumo es mucho más rápido. Te recomiendo hacer un chequeo de aceite al menos cada 2 semanas en ambos casos. A fin de detectar cualquier falla y evitar que tu vehículo sufra daño alguno.
Si el nivel de aceite esta bajo lo mejor que puedes hacer es seguir las recomendaciones del fabricante y asistir a sitios de comprobada experiencia y calidad de servicio para que recarguen el aceite o para que cambies totalmente el aceite, en caso de que este ya haya cumplido con su tiempo de trabajo.
App para recordar medir el aceite del motor
Muchas personas olvidan o no están pendiente de revisar los fluidos de su automóvil, ya sea por desconocimiento de la importancia de la función que estos cumplen o por descuido debido al ajetreo de la vida moderna. 
Gracias a los avances tecnológicos no tienes que preocuparte de recordar cuándo fue la última vez que chequeaste el nivel de aceite del motor o cuando debes revisarlo nuevamente,  con  la nueva app para mantenimiento de vehículos Gemacar no se te olvidarán las revisiones que debes hacer a tu automóvil ya que solo tienes que actualizar el kilometraje y la app te enviará los recordatorios para hacerlo, con Gemacar las notas o papeles dentro del vehículo quedaron en el pasado!
Con el  mantenimiento preventivo la vida útil de tu automóvil se extenderá y no tendrás percances que se convierten en costosas reparaciones. 
Gemacar te envía recordatorios para llevar el mantenimiento de tu vehículo de manera fácil y sencilla y además te ofrece un directorio de talleres, y eso no es todo si quieres llevar un registro de los servicios también puedes hacerlo con Gemacar La app esta disponible para Android y IOS descargala aquí 👇